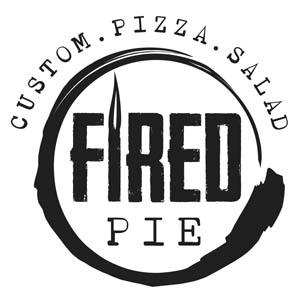 Fired Pie
Rich in flavor customizable pizza and salad made from scratch using fresh ingredients just the way you like it.
Savvy Shopper Deal
Valid from November 24, 2017 to December 24, 2017
Savvy shoppers, FiredPie will be offering a buy $25 gift card, and get a $5 bonus card back beginning the day after Thanksgiving (Friday, November 24th) until Sunday, December 24th.
---
Calling All Football Fans
Valid from December 5, 2017 to January 8, 2018
Calling all Football lovers, the Bowl games are right around the corner and to celebrate Fired Pie is offering easy, customizable catering options! Pizza delivery wait times are some of the highest for the year during the annual Bowl games and with Fired Pie's delicious catering options, football fans can kick back and enjoy watching their favorite teams while having peace of mind knowing no one will go hungry during the big game. Enjoy the bowl games with catering packages for 10 or more guests, with options starting at 8 mix-n-match 11" pizzas and a large catering salad for just $89.99. For 16-20 guests, you can get 12 mix-n-match 11" pizzas and 2 large catering salads for $145.99. Guests with parties less than 10 can order Fired Pie through 3rd party delivering options like Postmates and DoorDash. For those who don't what pizza, there are Wrap Package options starting at $65.99 – you can get 16 mix-n-match half wraps (salads converted to wraps) and 8 sides with choices from granny smith apples, potato chips or any combination of the two.
---
National Pi Day = Pizza for $3.14
Valid on March 14, 2018 from 2:00 PM - 9:00 PM
Pi is defined as the ratio between a circle's circumference and its diameter. It's also a favorite number in the mathematical world and every March 14 is National Pi Day! So math lover's rejoice because Fired Pie wants to celebrate another savory circle—pizzas! On Wednesday, March 14, from 2 p.m. to close, at all Fired Pie locations, any one-topping pizza is just $3.14 with purchase of a drink! This deal is not valid on third party delivery services.
---