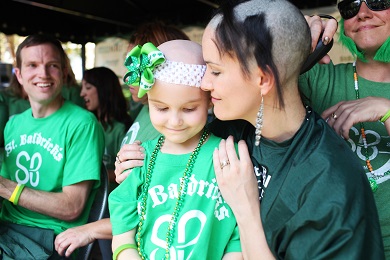 St. Baldrick's Fundraiser at Thirsty Lion!
Now through March 17, 2018
Our annual St. Baldrick's Fundraiser is back for its 6th year and will be raising money from February 17 to March 17.
The St. Baldrick's Foundation is a volunteer and donor powered charity committed to supporting the most promising research to find cures for childhood cancers and give survivors long and healthy lives.

Guests can donate on the bottom of their check during this time period. 100% of the proceeds go directly to St. Baldrick's. Guests can also raise money by pledging to shave their head at our finale event. Visit https://www.stbaldricks.org/events/ThirstyLionAZ2018 to get started!

On March 17 from 12PM-4PM we will be hosting our Head Shaving Fundraising Event which is the culmination of this entire fundraiser. This is where our "Shavees" will actually be shaving their heads! The event will be held at our Tempe Marketplace Thirsty Lion, but we are accepting donations at all of our Arizona locations.
This event coincides with St. Paddy's day at Thirsty Lion and we will be featuring a St. Paddy's day menu.

Visit https://www.facebook.com/events/342773182890137/ for event details.