---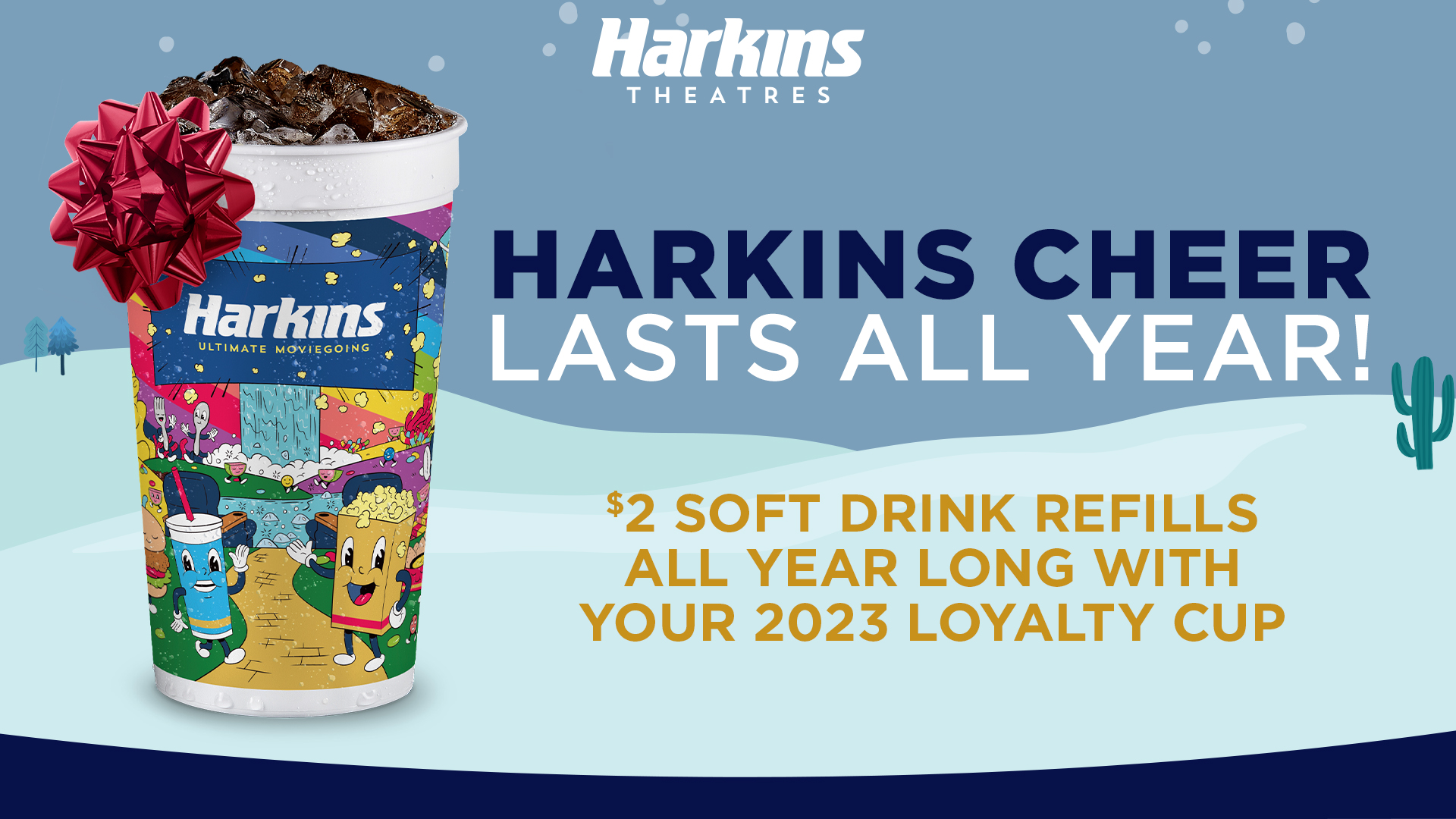 Harkins 2023 Loyalty Cup Information:

Harkins beloved Loyalty Cup has landed in theatres! Known as one of the best movie deals in town, the 2023 Loyalty Cup is available for purchase starting today.

Harkins rewards moviegoers with $2 soft drink refills every time they bring their Loyalty Cup to the movies through the end of 2023. With an engaging new design annually, Harkins Loyalty Cups have become collector's items that movie buffs look forward to every year. This year's scrumdiddlyumptious design shares Harkins magical wonderland of Ultimate Moviegoing®. The imaginative and playful 2023 Loyalty Cup features an edible Harkins fantasy land complete with vibrant colors and cheerful moviegoing characters.

Guests can enjoy this one-of-a-kind offer when they bring their 2023 Loyalty Cup to the movies to see some of the year's most anticipated films on the big screen including Marvel Studios' Black Panther: Wakanda Forever and the long-awaited sequel to James Cameron's Academy Award-winning 2009 Avatar franchise Avatar: The Way of Water.

Harkins 2023 Loyalty Cup retails for $7.75 each (includes a free first fill) and is available for purchase at all Harkins Theatres locations and online at Harkins.com/store. Guests can save all year long, every time they bring their Loyalty Cup to the movies.

Salvation Army Angel Tree
Now through December 22, 2022
Join the Salvation Army in giving back to children in Arizona by becoming a Christmas Angel. Visit t...
Festive Fridays
Now through December 16, 2022
Celebrate the Holiday Season! Join Us for Festive Fridays Holiday Program A special gift and experie...