---
It's no secret that Wonderspaces, a world-class art show with a rotation of mind-blowing curated installations from world-class artists, has taken Scottsdale Fashion Square by storm, however the art experience doesn't just stop there. In fact, Scottsdale Fashion Square shoppers and visitors alike can find numerous works of art scattered in and around the region's leading luxury retail center. From iconic statues to architectural elements outfitted in regal splendor, art is woven into the very fabric that is Scottsdale Fashion Square. Art is an essential element of the retail experience Scottsdale Fashion Square strives to deliver. Fashion may be among the most practical forms of artistic expression, but there's a definite intersection between art and style, and that mindset extends to the physical surroundings at the luxury retail center, as well. At Scottsdale Fashion Square, shoppers can find art everywhere they look, from the designer collections of some of the world's most celebrated fashion retailers to notable on-mall art pieces, such as: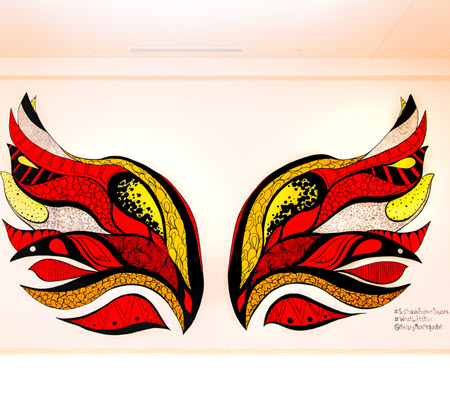 What Lifts You
Shoppers can find their wings with Kelsey Montague's bold Phoenix Rising butterfly depiction on Scottsdale Fashion Square's lower level, near the Palm Court.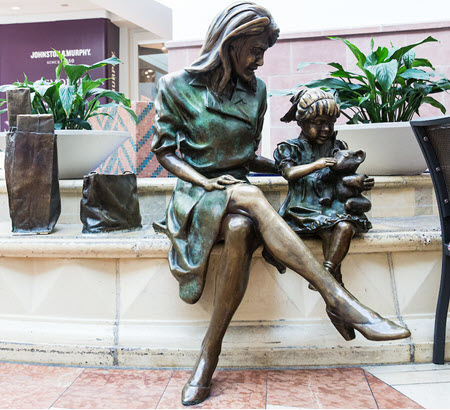 Mother and Child
Marc D'Ambrosi created this life-sized bronze statue depicts a mother and child resting near the Nordstrom wing.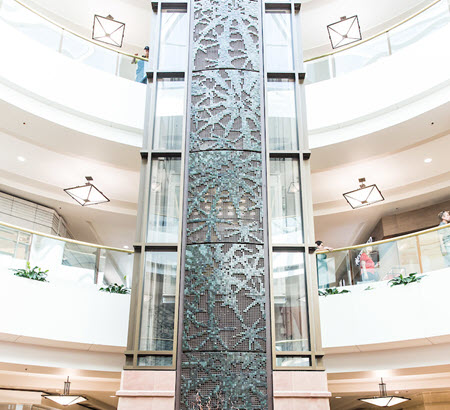 Glass Cast Mosaic
A whopping 45,000 pieces of cast glass are affixed to a steel grid surrounding a three-story glass elevator shaft located at the heart of the mall, near Tiffany & Co. The mosaic, a work of Otto Rigan, is suggestive of a pixelated barrel cactus and overlooks a seating area and mall entrance.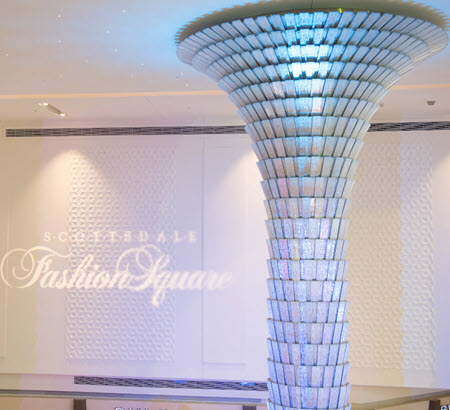 Crystal Column
Sleek and refined, this Swarovski crystal-inspired column is a striking example of the intersection between technology and art. The remote-controlled column features color-changing LED panels that add ambiance and a soft glow to the court. Inspired by high-end Middle Eastern design, the column is reminiscent of a flute with light cascading downward.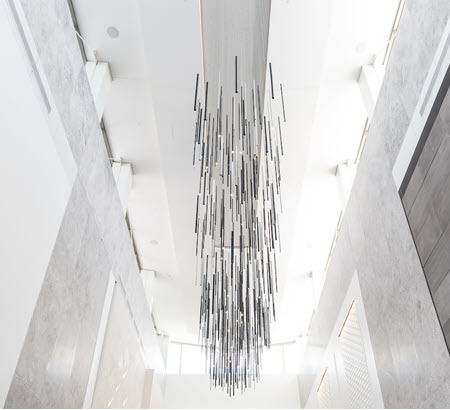 Smoke Chandelier
This stunning Yellow Goat Design work emerges from the ceiling for a stunningly imaginative illumination of the shopping center's Grand North Entrance. Metal rods of varying lengths in metallic tones of silver and gray transmit beams of light for a captivating prism-like effect.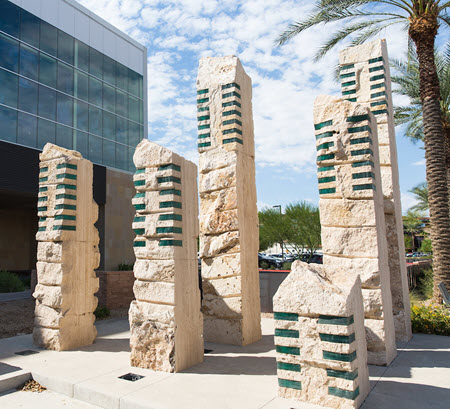 Six Columns
A cluster of columns of varying height (the tallest towering at 18 feet) accent the entrance to the shopping center near the corner of Scottsdale and Camelback Roads. The columns, also created by Otto Rigan, are made of New Mexican travertine and imbedded with cast glass.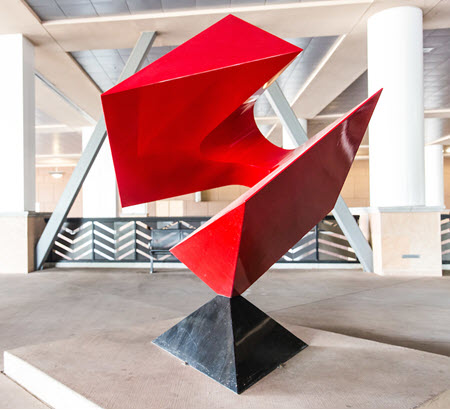 Devil Wind
This vibrant red steel sculpture sits outside the mall's north entrance. The abstract art piece, which stands eight feet tall, was created by Gary Slater and has been on display at the shopping center for nearly three decades.