Ongoing
|

Parking lot off of Camelback Road & Marshall Way - across from Crate & Barrel
---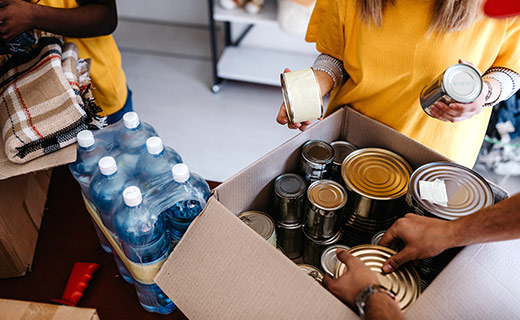 Help us in supporting our local community food banks from coast-to-coast. Working with our partner properties throughout the country, we're aiming to help serve a million meals to those in need. We thank you for your generosity.
We've partnered with St. Mary's Food Bank to host a collection drive on Saturday, September 26 from 7AM-12PM.
Donating is easy: Just bring non-perishable items to the drop-off location in the parking lot off of Camelback Rd and Marshall Way, across from Crate & Barrel. Stay in your vehicle and volunteers will collect your donation.
The most urgently-needed items include:
Peanut Butter
Canned Fruits
Canned Vegetables
Canned Protein (tuna, chicken, etc)
Canned Meals (soup, stews, ravioli, etc)
Water Bottles
Pasta
Rice
Cereal

If you're unable to provide food items, we're also accepting monetary donations on St. Mary's Food Bank's behalf, and you can click below to donate.

Donate to St. Mary's Food Bank
barre3 Free Outdoor Fitness Class
September 20, 2020 8:00 AM - 9:00 AM
Join barre3 PV / North Scottsdale for a FREE outdoor class at Scottsdale Fashion Square on Sunday, S...
Curbside Pickup Available*
Ongoing
Curbside Pickup* Curbside Pickup is available for select retailers and restaurants. Contact the sto...